---
PHOTO GALLERY
---
FEATURED EVENT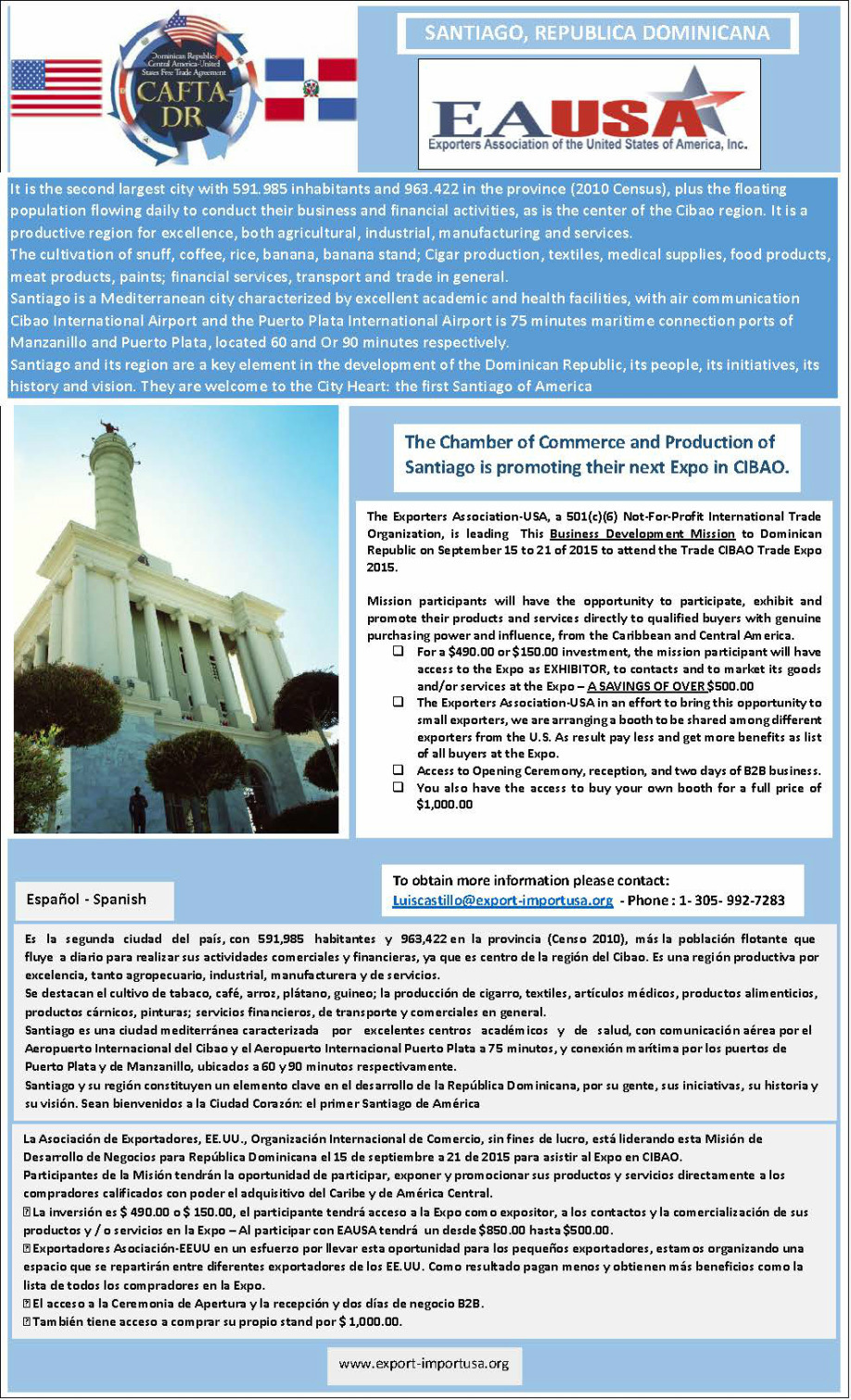 CALENDAR OF EVENTS
2015 Save the Date August at Lima Peru. Conference from August 26 to 27, 2015Save the Date September Dominican Republic Expo in September 15 to 21, 2015July 7-12, 2015
Trade Development Mission to Trinidad & Tobago
Six Companies participated. The expo was a success!
COMPLETED.
2014CALENDAR OF EVENTS
(Subject to Change)
August 26 to 29, 2014
Trade Mission & Conference Honduras 2014
Tegucigalpa & San Pedro Sula
Trade Show and appointments with importers
Supported by the Department of Commerce of USA in Tegucigalpa
For more information : seminars@exportsusa.org
(COMPLETED)
August 21-22 2014
LAHGE
Latin American Hospitality & Gourmet Expo
Santo Domingo, Dominican Republic
Sponsored by : Dominican Republic Minister of Tourism
Mention Exporters Association of USA and receive a discount
August 22, 2014: International Financing Through Export Import Bank of USA
(COMPLETED)
June 30th to July 5th
Trade Mission 2014 Trinidad and Tobago
"Trade & Investment Convention"
Lead by Broward County Mayor : Barbara Sharief
Great discount for TIC Convention
(COMPLETED)
June 20, 2014
Sail Away Party
Preview Trade & Investment Convention
South Beach Lady Luxury Yatch
More info:
www.ttsfchamber.org
(COMPLETED)
2013CALENDAR OF EVENTS
(Subject to Change)
March 13 and 14, 2013
Caribbean Gaming Show & Summit
Hard Rock Hotel & Casino
Punta Cana, Dominican Republic
(When Registering Mention Code #: EA-USA to Receive a 20% Discount)
(COMPLETED)
Monday, April 8, 2013
DCC Power Networking Luncheon
"The Future of Two-Way Trade Between Latin America, Caribbean with Florida"
Featured Keynote Speaker
The Honorable Joe Garcia
U.S. Congressman, Representing the 26th District of Florida
Brazaviva Steakhouse Doral
(COMPLETED)
Wednesday, April 10, 2013
Brazilian Marketing Annex (tm) BMA Breakfast Networking
"The Benefits & Opportunities of Investing Abroad"
Holiday Inn Miami-Doral
(COMPLETED)
Wednesday, April 17, 2013
Florida Finance Summit 2013
Intercontinental Hotel
Doral, Florida USA
(COMPLETED)
June 6 - July 25, 2013
Training Program on International Trade
Spanish Session
Keiser University (Miami Campus)
(COMPLETED)
June 12 - 15, 2013
Trade & Investment Convention 2013 (TIC 2013)
& International Trade & Financing Seminar
Trinidad & Tobago
(COMPLETED)
December 1 - 4, 2013
Outgoing Trade Mission to Brazil
& International Trade & Financing Seminar
(POSTPONED)
2012
CALENDAR OF EVENTS
(Subject to Change)
April 25, 2012
Santo Domingo, Dominican Republic
International Trade & Financing Seminar
COMPLETED
May 22, 2012
Nassau, Bahamas
International trade & Financing Seminar
Doors open at 8.00 am
COMPLETED
May 24, 2012
Freeport Bahamas
International Trade & Financing Seminar
Doors open at 8: 00 am
COMPLETED
August 15, 2012
Tegucigalpa, Honduras
International Trade and
Financing Seminar
Doors open at 8:00 am
POSTPONED
October 4, 2012
Bogota, Colombia
International Trade & Financing Seminar
COMPLETED
---